Disaster Victim & Disaster Damage Notice Certificates
Overview of Disaster Victim Certification
In Komatsu City, victims of natural disasters can apply to have their damaged residences surveyed, upon which a disaster victim certificate will be issued. Those who have suffered damage to their residences due to the recent floods, and require a disaster victim certificate, may apply.
※A photo of the damage must be provided. Please take a photo before carrying out cleaning and repairs. Refer to "Photo Requirements" below for a guide on how to take the photos.
※For houses in which water levels did not rise above floor level, self-assessment (i.e. without on-site assessment) can be carried out instead. Refer to "Self-assessment Option" below for details.
※Eligible "residences" refer to houses in which the applicants are actually living in. This includes rented apartments. (Uninhabited property and villas etc. which the applicant owns but does not live in are not eligible, but you can apply for a Disaster Damage Notice Certificate instead)
※For business owners with damaged shops, offices and factories etc., please refer to the "Disaster Certificate for Affected Businesses" page
※Please consult the Agriculture, Forestry and Fisheries Division (city hall 2nd floor) regarding agriculture-related damages.
Photo Requirements
Please get photos of the 1) entire house, and 2) specific damaged areas.
Guide from the Cabinet Office: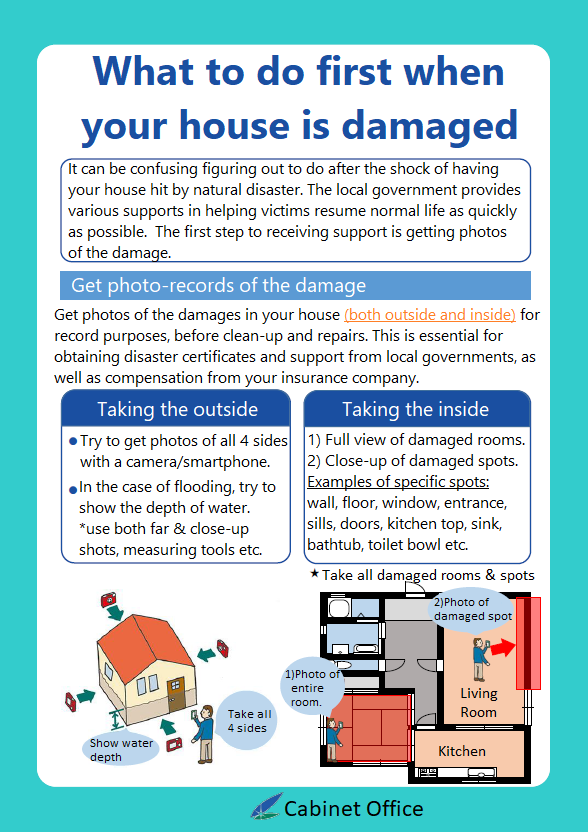 You may also refer to this video guide (in Japanese)
Disaster Victim Certification (for damaged residences)
In the event of damage to places of residence due to natural disasters, the Disaster Victim Certificate provides official certification of the degree of damage incurred, upon application for on-site assessment by city hall staff. The assessment will be conducted according to the official standards set by the Cabinet Office.
*A disaster victim certificate may be needed for application for rehabilitation and reconstruction support funds, tax exemptions, loans, and mutual aid benefits etc. In general, it should not be required for life insurance or damage insurance compensation.
Self-assessment Option
In cases where the damage incurred to the house is clearly less than 10% , and the applicant consents to accepting "partial damage" as the assessment result, damage certification can be conducted through just the photos taken by the applicant, without the need for on-site assessment. This assessment option will allow for faster processing.
(e.g. flooding below floor level, fallen roof tiles, external wall cracks, rain gutter damage, window pane damage etc.)
Certificate Reissuance
You may request reissuance of the same certificate as before, if additional copies are required for new applications for subsidies etc.
Note that you will need to fill in a different application form specifically for reissuance.
Reassessment
Applications for reassessment are possible if you have sufficient reason to request amendment to the degree of damage previously certified.
Deadline for reassessment application: Within one month of issuance of previous Disaster Victim Certificate.
Disaster Damage Notice Certification (for damages to non-residential properties & land)
The Disaster Damage Notice Certificate serves as verification that damages to non-residential buildings, land, structures and possessions (cars and goods etc.) have been reported to the city hall. You may apply for issuance of this certificate if you have incurred damage only to properties other than your house of residence.
※This does not serve as certification of the degree of damage or proof of damage.
Application Forms
Samples (of how to fill up forms)
Disaster Victim Certificate Application Form Sample (PDFファイル: 518.3KB)
Disaster Damage Notification & Certification Form Sample (PDFファイル: 204.4KB)
How to Apply
Service Counter/ Mail
Address:
91 Konmade-machi
Komatsu City, Ishikawa Pref.
923-8650 JAPAN
(〒923-8650 石川県小松市小馬出町91番地)
Service Counter:
Komatsu City Hall Taxation Division (小松市役所税務課 資産税 家屋・償却グループ)
Tel: 0761-24-8032、0761-24-8163
※Please bring along a personal identification document such as My Number Card, Residence Card, passport, or insurance card etc. If applying via post, please attach a copy of your identification document. You may consult the taxation division if providing such a document is difficult due to disaster circumstances.
Komatsu E-application Serviceこまつ電子申請サービス
You may also apply online with your computer or smartphone using the city's 24h e-application site (available in Japanese only).
Komatsu E-application Service (external link)
Pittari Service ぴったりサービス
You may also apply through the online application site, Pittari Service, run by the national government (in Japanese only).
Pittari Service (external link)
Points to Note
Issuance of the above certificates is free of charge.
Depending on the scheduling of on-site assessment and volume of requests, it may not be possible to issue certificates immediately.
In the event of large-scale disasters, there may be long waiting times at the service counters, and delays in conducting on-site assessments and certificate issuance.
It may be possible to apply for re-assessment if the applicant has significant reason to request correction of the degree of damage reflected in the issued disaster victim certificate.
Reference